Properties

Hinton Coal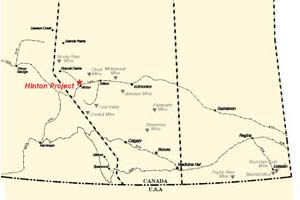 Hinton Coal Location Map
Canada Rare Earth Metals owns a 100% interest in the Hinton Coal project, which consists of eleven coal leases covering 6.88 square kilometers. Located 19 km northwest of Hinton, Alberta the project has easy access using existing resource roads. Sheritt International's producing OBED Coal Mine is located only 25 km to the northeast of the property. The total resource consists of 106,700,000 tonnes of measured and indicated in-place coal from surface down to 12:1 strip ratio.
In 2008 a Technical Report was prepared for this coal project in accordance with the requirements of National Instrument 43-101. The confirmation of documented geology and coal development and the verification of coal resources were completed through data reviews, geologic modeling, resource calculations, and a site visit. The findings and conclusions are based on information developed by Norwest Corporation from data provided by East Energy Corp.
The Hinton Coal Property covers coal-bearing strata in the Foothills Region of central Alberta. The property is centred near the town of Hinton, midway between Edmonton and Jasper. In the Project vicinity the first modern coal exploration commenced in 1974 and was conducted by Union Oil. More recent work was done by Manalta Coal in 1990 and 1992. Regionally, the strata in this area lie on the western limb of the Entrance Syncline. The coal seams are contained in eleven coal zones within the upper portion of the Coalspur Formation. These coal zones are Upper Cretaceous – Tertiary in age and lie near the top of the Saunders Group, under the Paskapoo Formation.
Highlights of the project include:
Coal grade is thermal coal with colorific value of between 5,710 and 6,000 kcal/kg.
Ash levels in the range of 35% to 40%.
A preliminary development option study was done with positive results.
Canada Rare Earth has entered into an agreement to option the property. A non-refundable deposit of $20,000 has been received. Further, payments of $200,000, $400,000 and $400,000 are payable at the option of the optionee with a minimum of half cash and the balance in shares of a publicly traded company issued at a discount to the volume weighted adjusted price. The payments are due four months from entering this option agreement, 12 months thereafter and then a further 12 months thereafter, respectively. Canada Rare Earth has a put option on the shares it receives for $200,000 and the optionee has a call option on the shares for $1 million, on the basis that $500,000 of shares are received by Canada Rare Earth. Additionally, on closing, Canada Rare Earth will be granted a royalty of $0.15 per tonne on the first 20,000,000 tonnes of coal produced from the site. The optionee may purchase this royalty for $1 million
Map Gallery
| | | | | |
| --- | --- | --- | --- | --- |
| | | | | |
| Location Map | | | | |
Reports
| | | | | |
| --- | --- | --- | --- | --- |
| | | | | |
| 43-101 Report | | | | |